something always brings me back to you (the fire's here to stay) medium
: general
subject
: rocky relationships
title
: something always brings me back to you (the fire's here to stay)
warnings
: none
notes
: this is my first fanmix, and i'm incredibly bad with technology, so if there's something that needs fixing, by all means let me know. basically this is a 20 song mix that represents the awkward and ridiculous year and a half long saga i had with the guy i am now dating, who turned out to be worth it in the end :).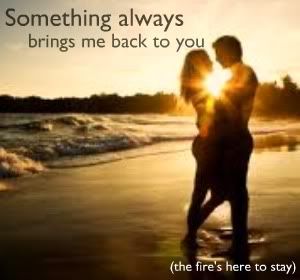 download the entire mix
here
.
body control
, leighton meester
i know you see me with my body movin out of control
i know you see me you don't know that i got body control
this beat's electric baby, shockin me right down to my soul
i know you see me i got bo-bo-body control
i am not a robot,
marina and the diamonds
can you teach me how to feel real?
can you turn my power on?
well let the drum beat drop
if you wanna i might
, hellogoodbye
if you wanna say i, i, i like you
i might feel just like you
if you choose, choose not to
i knew, knew you would
little dreams
, ellie goulding
you've got me caught in a place, panic for a minute
got my brain in a daze, i wish you weren't in it
there are so many ways
to lose your attention
you can break everything, but so?
i can take anything
campus
, vampire weekend
i see you, you're walkin cross the campus
cruel professor, studying romances
how am i supposed to pretend
i never want to see you again?
ten cent blues
, eisley
and i'm sorry i don't have her face
and i'm probably gonna lose this race
there is no doubt, she's such a mouse
with such an abstract grace
what are you waiting for?
, miranda cosgrove
i never thought anyone ever could
make me feel this way
so make my day
what are you waiting for?
brown eyes
, lady gaga
i guess it's just a silly song about you
and how i lost you
and your brown eyes
better man
, pearl jam
talkin to herself, there's no one else who needs to know
she tells herself, oh ...
memories back when she when she was bold and strong
and waiting for the world to come along
swears she knew it, now she swears he's gone
gotta have you
, the weepies
the road gets cold, there's no spring in the middle this year
and i'm a new chicken plucking open hearts and ears
oh, such a prima donna, sorry for myself, but
green it is also summer
and i won't be warm til i'm lying in your arms
so long
, ingrid michaelson
you've made me into someone
who should not hold a loaded gun
and now you sit upon my chest
knock out my wind, knock out my best
suggestions
, orelia
so why can't he see it from my point of view?
and how many seconds in the hours of a day did we lose?
was it me or his feelings, me or his feelings that day?
cuz i just stood there in silence, watched my whole world fade away
gravity
, sara bareilles
something always takes me back to you
it never takes too long
no matter what i say i'll do
i still feel you here, til the moment i'm gone
if i didn't care
, amy adams and lee pace (miss pettigrew lives for a day)
if i didn't care, would it be the same?
would my every prayer begin and end with just your name?
and would i be sure that this is love beyond compare?
would all this be true, if i didn't care for you?
invent it all again
, faded paper figures
iron bridges, melodic chimes
things i did for you back then
all these clocks are only marking time
let's invent it all again
living in your letters
, dashboard confessional
poring over photographs
i'm living in your letters
breathe deeply from this envelope
it smells like you, and i can't live
without that scent, it's filling me
with all you mean to me, to me

the dumbing down of love
, frou frou
and if i tell you
lover alone without love
what will happen?
lover alone without love
will you miss him?
lover alone without, without love
lucky
, jason mraz and colbie callait
lucky i'm in love with my best friend
lucky to have been where i have been
lucky to be coming home again

the dog days are over
, glee cast cover of florence and the machine
and i never wanted anything from you
except everything you had
and what was left after that, too, oh
happiness hit her like a bullet in the back
stuck from a great height
by someone who should have known better than that
little house
, amanda seyfried
you can catch me
don't you run, don't you run
if you live another day
in this happy little house
the fire's here to stay
(end. download the mix
here.
)